SAFEWORK AWARDS WINNER
2017 EXCELLENCE IN WORKPLACE HEALTH AND SAFETY CULTURE
Established in 1993 and based in Alstonville in northern NSW, Sailfish Catamarans builds aluminium boats. From a staff of two producing five boats a year, the company has grown to a staff of 19 full-time tradesmen and apprentices building about 30 custom-built catamarans a year. Today, it is a successful manufacturing and exporting business.
The company is proud of its young workforce and employs a new apprentice every year – and from day one a safety culture is embedded. New employees are taught the company's values, what they will learn, work ethic and workplace expectations. This, coupled with a no bullying policy and apprentice buddy system, allows everyone to understand and own their responsibilities in the workplace.
The owner, Darren Foster, says "the company has undergone a significant cultural change in its commitment to health and safety. There is now an open door policy with all senior management regarding health and safety issues and daily toolbox talks in which all managers participate".
The company's consultation process recently resulted in new equipment being introduced to address risks associated with working at heights.
Today, Sailfish Catamarans boasts a dynamic workforce that is committed to safety.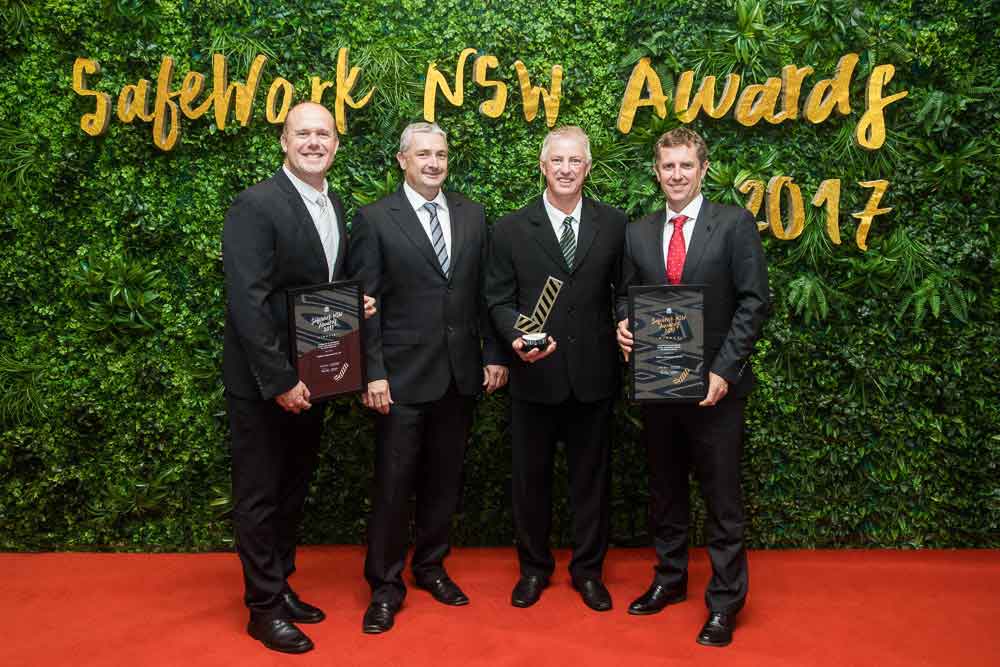 S8
Tradeaboat – 2016 ALLOY WINNER
Wow! Quite simply wow! The X-factor on the magnificent Sailfish S8 has gone stratoshpheric. Overall, the Sailfish S8 is one hell of a competitor in the tough world of offshore fishing machines.
As judge John Ford commented, "There's nothing missing to make this the perfect fishing platform", while Kevin Smith added: "You can't not like it. Uncompromised stability that's typical of big cats, loaded with more rather than less. Turnkey and ready to rumble."
The hulls ride on a cushion of air, taming the slop and challenging wild seas with utter determination. Their huge footprint and inherint stability provide the ultimate trailerable fishing platform, but still allow for all of the creature comforts of large enclosed wheelhouses and cruising facilities. But for me personally, the S8 is up there as one of the best trailerable sportfishing packages of all time.
JOHN WILLIS – TRADE A BOAT MAGAZINE
S7
Tradeaboat – 2015 ALLOY WINNER
When you line up the Sailfish S7 against the other aluminium fishing boat contenders, it effortlessly combines family runabout and fishing weapon into one complete package.
As far as aluminium fishing boats go, the Sailfish S7 comes with a magnificent presentation. It has an inspiring level of detail and brilliant features, including a very workable layout. Our judges were impressed from the moment they stepped on board by the vast deck area and superior stability afforded by those twin powercat hulls.
The Sailfish S7 rides on that cushion of air under the tunnel as if you were in the clouds, and true to her feline appeal, has the tenacity to spring to attention with surprising agility when challenged.
No stone has been left unturned in attention to detail – the finished quality, welding prowess, general engineering, appealing fishing and clever layout combined with beautifully produced paint and finished surfaces to take the Sailfish S7 to the pinnacle of her class.
TRADE A BOAT MAGAZINE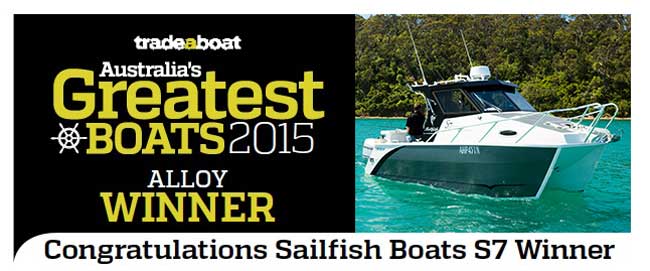 CANYON MASTER
Tradeaboat – 2014 ALLOY FINALIST
ANGELO SAN GIORGIO – EDITOR TRAILERBOAT MAGAZINE AND JUDGE, AUSTRALIA'S GREATEST BOATS
For those guys who are looking for a transition from a mono to a cat and thinking its going to be an entirely different experience, take it from me, it's not. The Canyon Master has ubelievable stability and a mind blowingly soft ride.
KEVIN SMITH – TRAILERBOAT MAGAZINE
Exceptionally soft ride -this is top class. Planes at 47km/hr on one engine.
JOHN FORD – TRADE A BOAT MAGAZINE
A well-designed cat often has a superior ride over rough water compared to a mono. This is because the cushion of air between the sponsons acts as a shock absorber as the hull comes to rest.
MATT JONES – TRADE A BOAT MAGAZINE
It just rides over and caresses the tops of the waves with that cushion of air. When you look at the speed you can't believe how fast you are actually going. As a diver- the layout is sensational.
2012 Australian Marine Export Industry
Best export performer – medium exporter
2003 and 2007 Ballina Chamber Of Commerce
Business of the year – Industrial & Trade Services + Manufacturer Of The Year
2012 Trade A Boat magazine
Aluminium Catamaran Of The Year
First ever Aluminium Catamaran to be approved for Volvo Penta IPS Installation.