ABOUT
The Story Behind Sailfish Catamarans
QUOTE: "If there's a single ounce of the ol briny in your blood the mere mention of Australia's own Sailfish Catamarans should get you salivating!" John Willis – Trailer Boat – Australasia
Sailfish Catamarans burst on to the Australian boating scene way back in January 1993 with their impressive locally manufactured aluminium twin hull designs that hit the mark with Australian sportsfishers, divers and nomadic seafarers. Twenty five years on Sailfish have risen from humble beginnings to become one of Australia's most successful marine manufacturers.
Sailfish have always offered a blend of seaworthy, offshore capable packages with maximised hull efficiency delivering huge volume, deck space and stability; and all wrapped up into towable sized packages. They pack enormous facility into the compact dimensions and weigh considerably less than equivalent fibreglass boats with similar purpose enhanced by their innovations in alloy trailer construction.
Sailfish offer a range of cabin layouts and options to suit long range sojourns and weekenders, but mostly with a leaning toward enhanced outdoor facilities for day sports.
FROM LITTLE THINGS BIG THINGS GROW
Sailfish Catamarans Darren Foster commenced his career building aluminium catamarans in 1984. He started from humble beginnings in a little factory in the Northern Rivers NSW township of Alstonville with two staff producing five boats a year. They now employ over twenty full time tradesmen and apprentices producing approximately thirty custom built plate aluminium power catamarans per year with a very respectable total of over 440 vessels in their 25 year history. In 2000 Sailfish built their own factory that includes 7 x boat building bays, spray painting booth, trailer building bay and 2 x fit up bays to deliver turnkey packages.
Whilst recreational boats dominate sales, Sailfish have also supplied nearly 100 Commercial Series vessels for survey and working applications including Government Authorities, safety organisations and marine service providers, plus international exports to USA, PNG, Russia and New Zealand.
THE PEOPLE
A mere three years after the birth of Sailfish a partnership was formed with Sydney's Webbe Marine. This partnership grows stronger to this day, now some 22 years later. In 1998 Sailfish also joined forces with Sports Marine in Western Australia further strengthening the national alliance and service representation.
Sailfish Catamarans say, "Our success is dependent on the teamwork that exists in our company and we will continue to cultivate the highest levels on ethical standards and workmanship within our workplace. The aims of our business are to ensure a professional custom built, high quality range of aluminium power catamarans for the leisure, commercial and rescue boating markets."
SUCCESS INDEED
Success can also be quantified by the high volume of repeat business with satisfied customers often returning to update or upsize. Premium products also reflect high retainment value with Sailfish packages being eagerly sort after on the second hand market.
Quote Sailfish, "Sailfish Catamarans will always continue to be market leaders not market followers. Our philosophy is to build quality boats that not only meet, but exceed our customers' expectations."
Success has been further recognised by industry peers with the Canyon Master, S7 and S8 models both invited to the finals of Trade A Boat Magazine, Australia's Greatest Boats awards for 3 years running, with the S7 taking out the Aluminium Award for 2015 and S8 in 2016. Sailfish are the only manufacturer to have won this award twice in the history of the competition.
THE FUTURE
The Sailfish Catamarans future is here and now with the new and exclusive Hydroflow GEN 3 hull that offers unmatched performance, amazing efficiency, maximum stability plus lightning fast hole shot performance! The traditional "cushion of air" has advanced to a magic carpet ride with improved hydrodynamics providing the softest, most predictable and reliable off-shore hulls available.
The sales network combines with innovative design and flexible manufacturing to customize your dream machine to suit your lifestyle. Who said the perfect boat will never be made? – Sailfish Catamarans have been doing it for 25 years!
A brief look at just some of the recent Sailfish Awards tell their story of success:
2014 Trade A Boat Magazine – Finalist Aluminium Boat Of The Year (Canyon Master)
2015 Trade A Boat Magazine Aluminium Boat Of The Year (S7)
2016 Trade A Boat magazine Aluminium Boat Of The Year (S8)
2012 Australian Marine Export Industry – Best export performer – medium exporter
Ballina Chamber Of Commerce – Business of the year – Industrial & Trade Services + Manufacturer Of The Year
2012 Trade A Boat magazine – Aluminium Catamaran Of The Year
First ever Aluminium Catamaran to be approved for Volvo Penta IPS Installation.
2017 NSW Safework Awards Winner – Excellence In Workplace Health & Safety Culture
FOR FURTHER INFORMATION CONTACT
Webbe Marine (Sydney) PH 1800 885635 W: webbemarine.com.au
Sports Marine (WA) PH 08 97214390 W: sportsmarine.com.au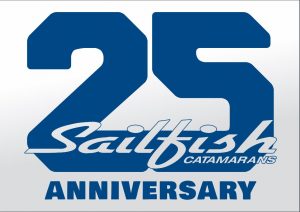 'We are proud of being acknowledged as the best in our field by industry commentators and professional boating journalists.'