ABOUT
Founded in 1993, Sailfish Catamarans have grown from strength to strength and established themselves as clear market leaders.
Our growth and success has been as a direct result of the efforts of all of our team. The Sailfish team have met stringent standards required by government and maritime authorities, professional fishermen, safety & rescue bodies as well as a large number of pleasure craft owners.
From a staff of two producing five boats a year, we have grown to a staff of over twenty full time tradesmen and apprentices producing approximately thirty custom built plate aluminium power catamarans per year. Our success is dependant on the teamwork that exists in our
company and we will continue to cultivate the highest levels of ethical standards and workmanship within our workplace.
The aims of our business are to ensure a professionally custom built, high quality range of aluminium power catamarans for the leisure, commercial and rescue boating markets.
We are proud of being acknowledged as the best in our field by industry commentators and professional boating journalists.
Many of our customers chose us after extensive research and investigation of other boat builders in Australia and overseas, they have recognised the high standard of quality workmanship put into every one of our vessels. We now have many customers who are repeat buyers of our boats and continue to upgrade to larger models.
Sailfish Catamarans will always continue to be market leaders not market followers with our products. Our philosophy is to build quality boats that not only meet but exceed our customers' expectations.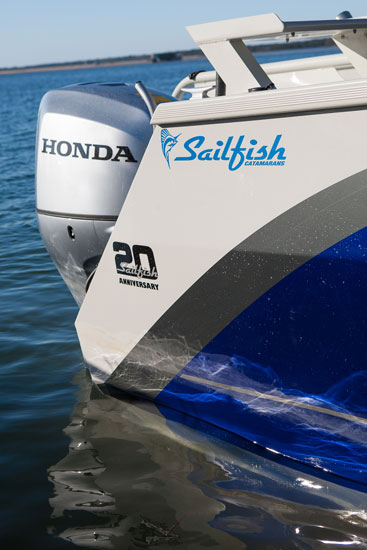 'We are proud of being acknowledged as the best in our field by industry commentators and professional boating journalists.'